Hosting:
low.ms
Visit Low
Rating:

4.7

Price range:

$0.43 - 0.49 per slot

Slots:

10 - 64

Trial period:

There is no trial version

Promo codes for Low:

BAH20

Server location of game hosting:

Australia Sydney

Finland Helsinki

Singapore Singapore

United Kingdom London

United States CA Los Angeles

United States NY New York

United States TX Dallas

Payment cycle:

1,3,6,12 months

Website languages:

English

More details about Low
Payment methods:
Mod support:

Mod Support

Mod Manager GUI

1-Click Mod Install

Auto Updating Mods

Customer support:

Email

Ticket System

Live Chat

24/7 Support

Notes:

Automatic Backups

Automatic Updates

Location Switching

FTP Access

Control panel:

TCAdmin

Cluster support:

Free
WHAT IS COUNTER STRIKE: GLOBAL OFFENSIVE?
Where possible, we try and work closely with the developers Valve, to provide stable and up-to-date Counter Strike: Global Offensive servers. We also integrate Steam Workshop into our control panel (if supported by the game).

With LOW.MS as your Counter Strike: Global Offensive server hosting provider, you can play with your friends and fellow community members from around the world. We handle the technical stuff for you and provide an array of tools to help you manage, backup and install mods on your server.

With currently over 2,622,109 recommendations on Steam, the popular game has gained a lot of traction. If you haven't already, why not start up your own gaming community and make use of our free web hosting? Check your welcome email on how to do this.

NCLUDED WITH COUNTER STRIKE: GLOBAL OFFENSIVE SERVERS
Instant Setup
Full FTP Access
Worldwide Locations
Stop/Start/Restart
Automated Restarts
Scheduled Updates
24/7 Uptime
Mod/Plugin Installer
Steam Workshop Integration
Switch locations any time*
Switch games any time*
DDoS Protection

WHY CHOOSE LOW.MS AS YOUR SERVER HOST
DDoS Protection
Our network is protected from attacks of at least 10 Gbps. Keeping your Counter Strike: Global Offensive dedicated server fully defended.

Performance Hardware
Counter Strike: Global Offensive servers are all hosted on the latest hardware. Intel E and i9's, DDR4 RAM and SSDs.

World-wide Locations
Your Counter Strike: Global Offensive server rental can be located in US West, US Central, US East, UK or Germany!

Secure Payment
Your payment details never touch our servers, that is dealt with by our FCA compliant providers Stripe and PayPal.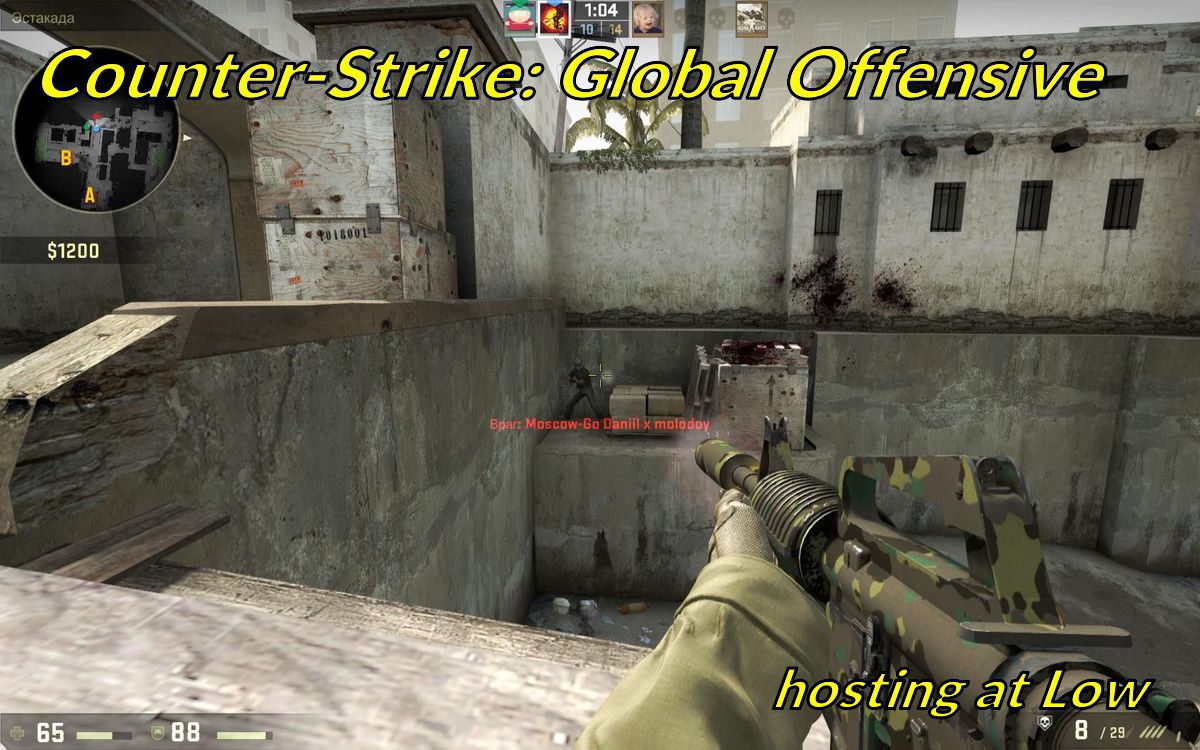 Last reviews about Low:
Low.MS is my preferred game host, and I have tried a lot of hosts, they have amazing customer support, they are always available to help from basic setup to advanced support. They may not have all the answers but they find them quickly.

I have had an issue with lag but as soon as I reported it to the support team got it fixed ASAP.

I have had no major issues and fully recommend for your game server hosting requirements.

What I was looking for when I purchased my Rust server was to have a smooth experience with no hardware limits and that is what these guys provide, would recommend trying them out they do have 7 day refund if it goes terribly wrong for you. I don't think I will be moving away any time soon. :)

Like any business, everything is great when nothing is wrong when renting a server. Low.MS has been extremely responsive when something does happen and works diligently to resolve all issues.