Hébergement:
nitrado.net
Visit Nitrado.net
Evaluation:

4.1

Fourchette de prix:

$1.06 - 1.3 per slot

Slots:

4 - 200

Période d'essai:

Pas de version d'essai

Promo codes for Nitrado.net:
Server location of game hosting:

Argentina Buenos Aires

Germany Frankfurt

United Kingdom London

Turkey Istanbul

United States CA Los Angeles

United States FL Miami

United States NY New York

Payment cycle:

3,30,90,365 days

Website languages:

DEUTSCHLAND

EUROPE (ENGLISH)

SPAIN

TÜRKIYE

FRANCE

POLSKA

ΕΛΛΆΔΑ

ITALIA

NL

LATAM

US

More details about Nitrado.net
Méthodes de paiement:
Support de mods:

All Mods Supported

1-Click Install & Update

Mod Manager GUI

Assistance clientèle:

Ticket System

24/7 Support

HotLine

Live Chat

Notes:

Free Subdomain

Automatic Backups

Prepaid

Game switching

Panneau de configuration:

Custom

Supports de clusters:

Free
Counter-Strike: Global Offensive (abbreviated as CS:GO) is an online first-person shooter developed by Valve Corporation and Hidden Path Entertainment, who also maintained Counter-Strike: Source after its release. It is the fourth game in the Counter-Strike franchise. Global Offensive was released on 21 August 2012. It features classic content, such as revamped versions of old maps; as well as brand new maps, characters and game modes. It supports matchmaking and leaderboards. An Elo rating system prioritizes matching players by skill.

Like the previous games in the series, Global Offensive is an objective-based multiplayer first-person shooter. Each player joins either the Terrorist or Counter-Terrorist team and attempts to complete objectives or eliminate the enemy team. The game operates in short rounds that end when all players on one side are dead or a teams objective is completed. For most game modes, once a player dies, they must wait until the round ends to respawn. Players purchase weapons and equipment at the beginning of every round with money awarded based on their performance. Completing objectives or killing enemies earns the player money while negative actions, like killing a teammate or hostage, takes money away from the player. In addition, when a round ends all players receive some amount of money, with players on the winning team receiving substantially more.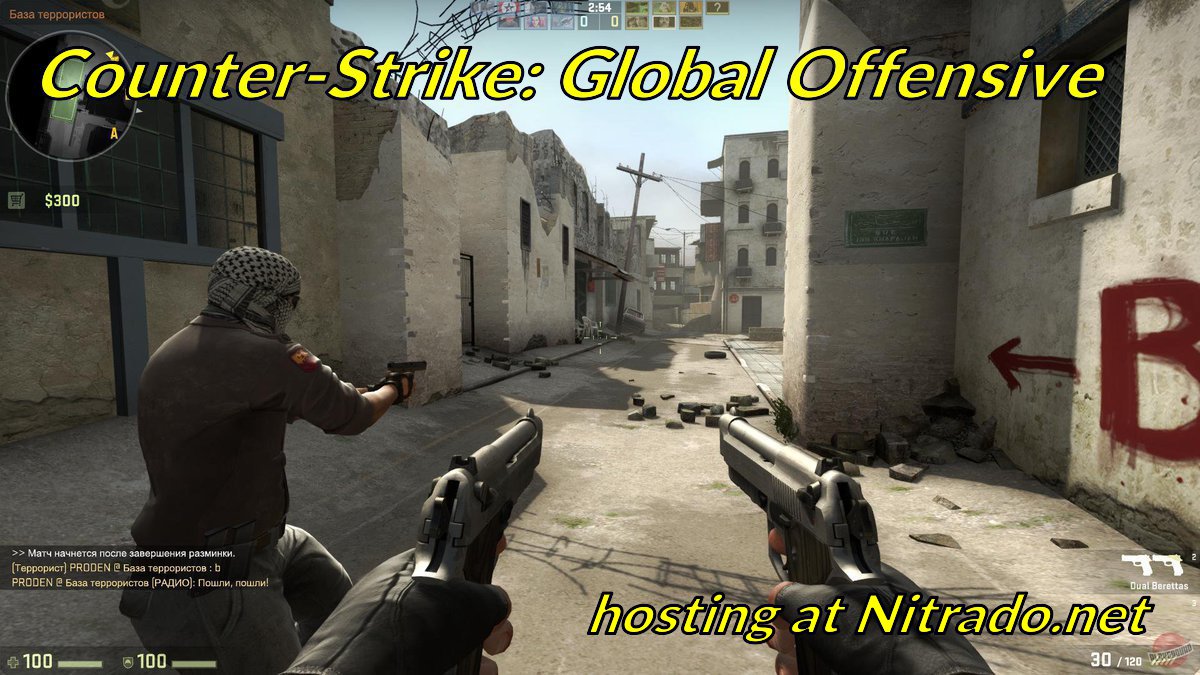 Last reviews about Nitrado.net:
I have had many host services & Nitrado…

I have had many host services & Nitrado is absolutely the best. Both in customer service which is what is most important to me. Plus the quality of their servers, control panel interface and ability to play games with my Community as a Broadcaster. I can recommend no company more highly.

Honestly never been happier with a…

Honestly never been happier with a service! Quickest replies and always super helpful when it comes to Tech problems. The staff are so friendly that you could just have a normal conversation with them. Honestly to anyone looking for a game server. These guys get it right first time. Give it a go!

Very good service

Nitrado is in my opinion one of the best, if not the best server hoster for various games. I'm very happy with the server performance and support. The people behind the scenes are very nice and helpful.